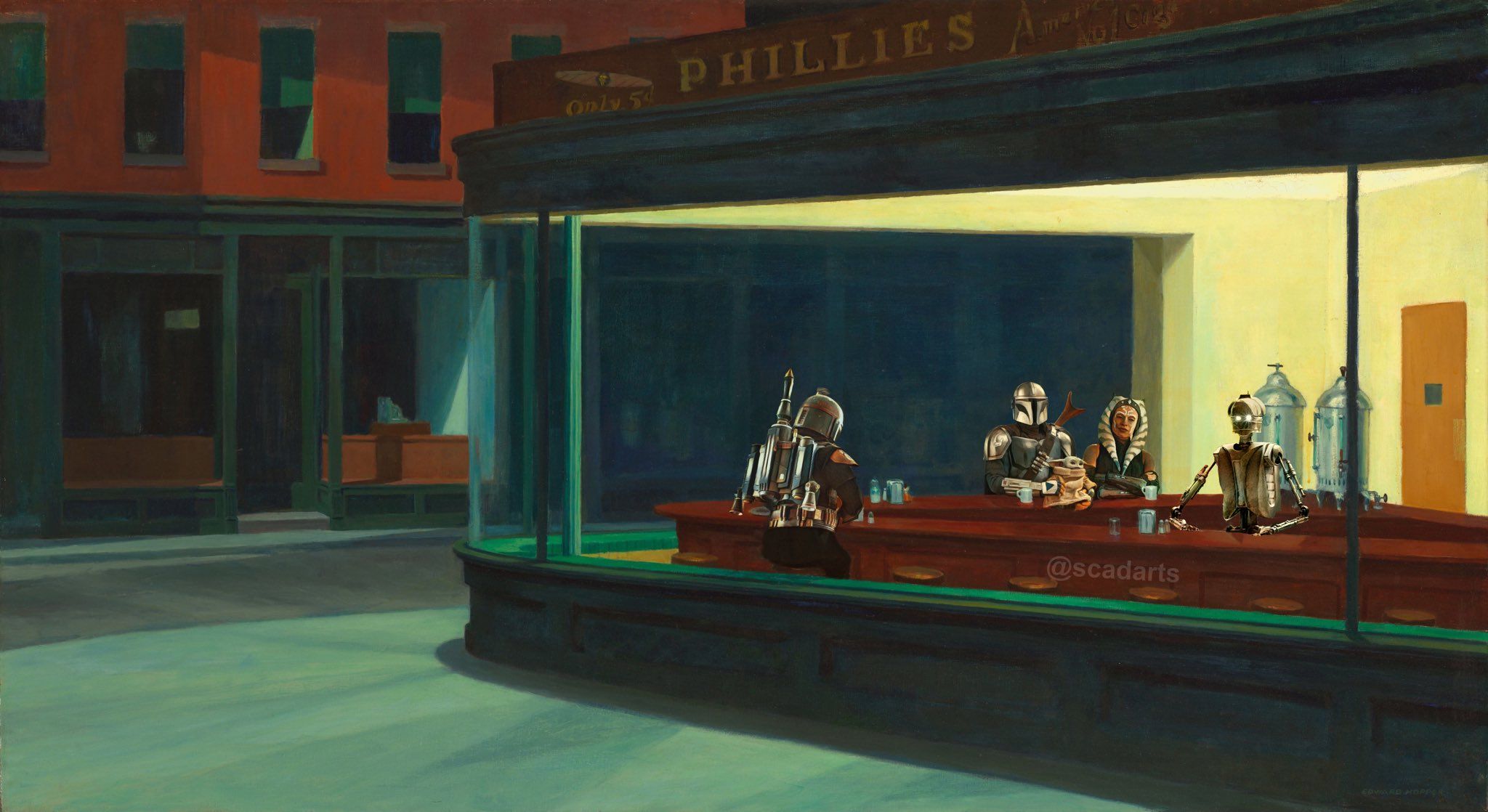 A creative Star Wars fan commemorates The Mandalorian by putting Din Djarin and the Kid into Edward Hopper's well-known "Nighthawks" painting.
A brand-new piece of fan art commemorating The Mandalorian puts Din Djarin and Grogu into a well-known painting by Edward Hopper.
On Instagram, visual artist @scadarts published a gorgeous representation of the popular Star Wars characters inside the timeless "Nighthawks" oil painting. It includes the stars of The Mandalorian in a downtown restaurant after hours, sitting with Ahsoka Tano and Boba Fett, with the android EV-9D9 tending the bar location. The artist was influenced by Hopper's 1942 painting, which is extensively thought about among the most identifiable works of American art.
View this post on Instagram

A post shared by scadarts (@scadarts)
The Nighthawks-inspired art work is the very first in a trilogy of paintings by @scadarts including the iconic heroes and bad guys of the Star Wars universe. The artist went on to develop a 2nd painting of the exact same restaurant with the stars of the prequel trilogy, consisting of Darth Maul riding his Bloodfin speeder on the street outside the restaurant. The 3rd painting functions Boba Fett surrounded by the initial trilogy's characters, with R2-D2 serving beverages at the bar.
Din Djarin and Grogu were last seen on The Book of Boba Fett on Disney+. In the series, Grogu goes through Jedi training with Luke Skywalker and Ahsoka at the Jedi Temple on Coruscant. Din returns with a present for Grogu, his beskar spear rebuilded into armor, however Ahsoka persuades the Mandalorian that his existence will obstruct of Grogu's training. Din go back to Tatooine after asking Ahsoka to provide the present, and Luke asks Grogu to pick in between taking Yoda's lightsaber to continue his training, or to stop training and go back to his father-figure, Djarin. Eventually, he selects Djarin, and they assist Boba Fett in his fight versus the criminal activity households in Mos Espa.
Lucasfilm just recently revealed the release dates for its approaching Star Wars shows on Disney+. The Mandalorian will be back for its 3rd season, which has Back to the Future's Christopher Lloyd guest-starring in an undefined function. Ahsoka will have her series launched at some point in 2023. Prior to either one, nevertheless, Disney+ will be launching the Obi-Wan Kenobi series, set 10 years after the occasions of Star Wars: Episode III – Vengeance of the Sith, on May 27th. This will be followed by Andor, the prequel to 2016's Rogue One: A Star Wars Story. Other verified jobs, consisting of The Acolyte, are still in the early advancement phases.
The Mandalorian: Season 3 does not have a release date.
Source: Instagram