The first teaser trailer for Thor: Love and Thunder was released on April 18 and showed the return of Thor, the Guardians of the Galaxy and Jane Foster, this time as the Mighty Thor wielding Mjolnir. Also introduced for the first time in the MCU are the Russell Crowe's Zeus and Falligar, the giant god of the Galactic Frontier. And on Monday night, Marvel released the first full trailer for its next movie scheduled for theaters on the studio calendarfinally bringing Christian Bale's Gorr!
The new video begins with Korg narrating to a group of children the trajectory of a space Viking, Thor Odinson, who after saving Earth for the 500th time, set out on a new journey, regaining his physique, and thereafter reclaimed his title as the one and only Thor.
At that moment, however, Mjolnir ends up in the hands of Jane Foster, already in her Mighty Thor mantle. Then Gorr, the Butcher of the Gods, finally makes his first appearance, and promises: "All gods will die!".
In the first trailer, Zeus appears briefly and without showing his face. Now, Russell Crowe's character has gained prominence and tells Thor: "Let's see who you are. I will take off your disguise". But apparently he ends up taking more than he should, causing the women around the most powerful god in the Greek pantheon to faint.
Check out the subtitled trailer:
the first trailer of Thor 4 had 209 million views within 24 hours of releasejust behind Avengers: Endgame and Spider-Man: No Return Home among the productions of the Marvel Cinematic Universe.
new official poster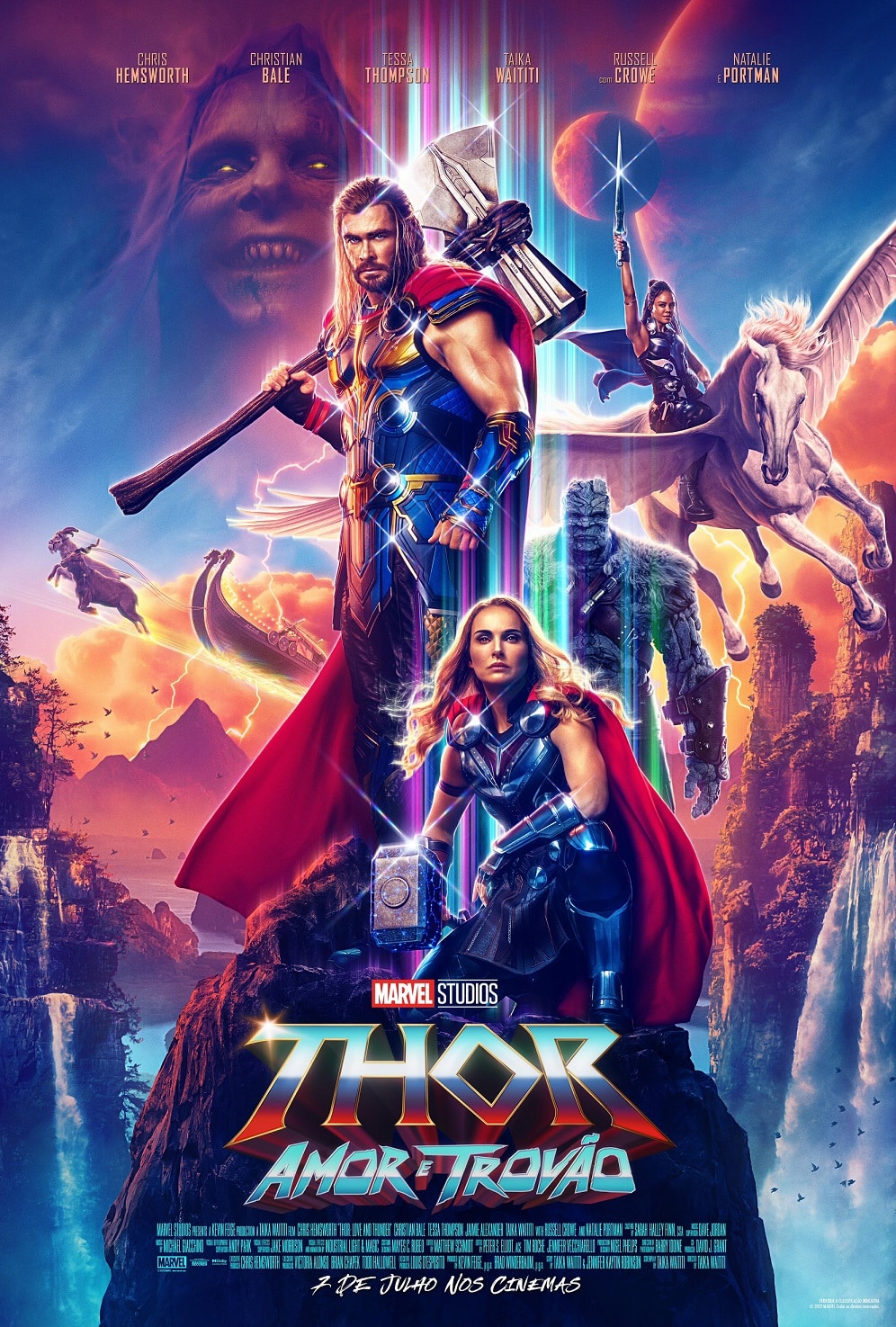 Synopsis of Thor: Love and Thunder
The God of Thunder's latest adventure—including a trip to Olympus where Zeus (Russell Crowe) reigns supreme. The film finds Thor (Chris Hemsworth) on a journey unlike anything he's ever faced – a quest for inner peace, but his retirement is interrupted by a galactic assassin known as Gorr, the Butcher of the Gods (Christian Bale), who seeks extinction of the gods.
To combat the threat, Thor enlists the help of King Valkyrie (Tessa Thompson), Korg (Taika Waititi) and ex-girlfriend Jane Foster (Natalie Portman), who, to Thor's surprise, inexplicably wields her magic hammer, Mjölnir, revealing herself the Mighty Thor. Together, they embark on a harrowing cosmic adventure to uncover the mystery of the Butcher of the Gods' revenge and stop him before it's too late.
In Brazil, Thor: Love and Thunder opens in theaters on July 7th.
follow him Disney+ Brazil Guide on social networks and stay on top of Disney streaming tips, news and releases.
•
•
•
•