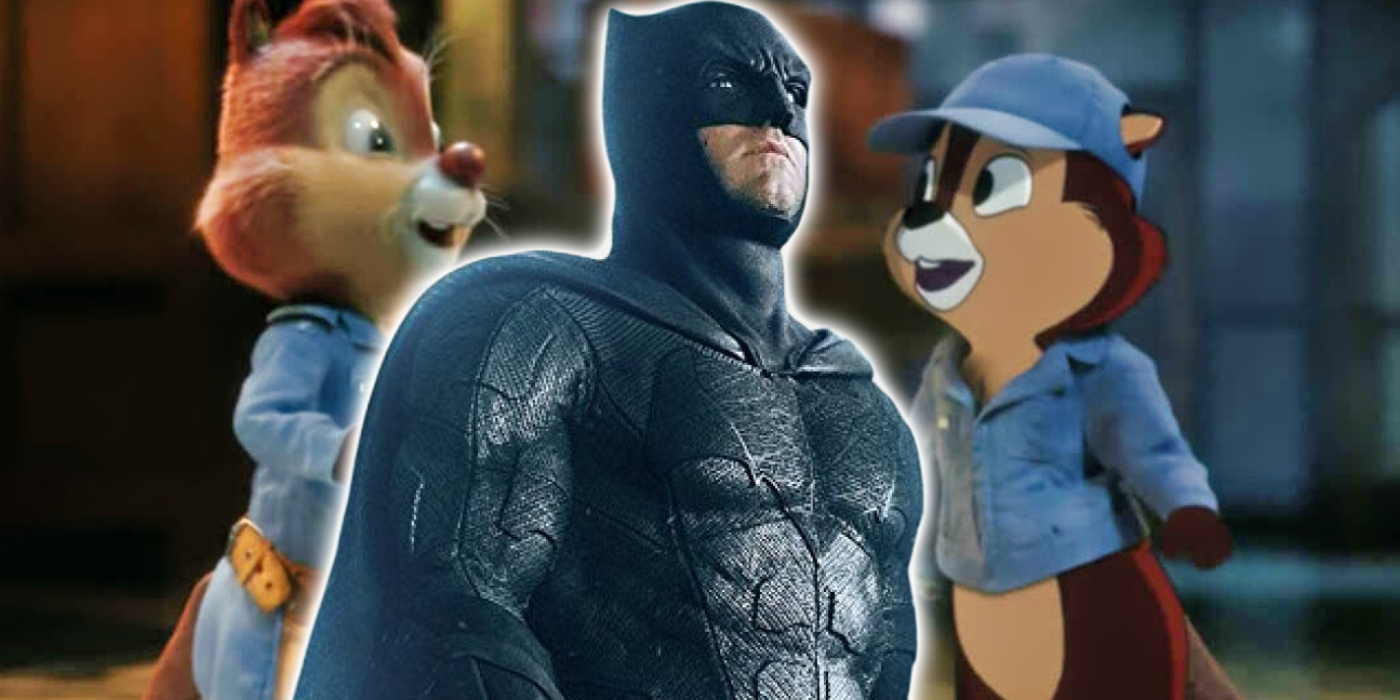 Zack Snyder's Batman has a cameo in the recently-released live-action/animated movie, Chip 'n Dale: Rescue Rangers, now streaming on Disney+.
Zack Snyder's Batman v Superman: Dawn of Justice provided audiences with another unforgettable version of the Dark Knight, played by Ben Affleck. Years after his last look on the screen, that variation of the superhero has a cameo in Chip 'n Dale: Rescue Rangers on Disney+.
According to BigScreenLeaks, the live-action/animated hybrid movie includes a quick look of Batfleck on screen in an enjoyable in-movie poster. The poster composed, "There's a cameo in [Chip 'n Dale: Rescue Rangers] that I think is gonna cause some discourse on Twitter. I'm both dreading it and excited for it."
The just recently launched movie centers on the titular chipmunk bros, who have actually apparently taken really courses following the cancelation of the timeless Rescue Rangers animation. Embed in a world where human beings and animations co-exist, the duo is employed to help the cops with an examination relating to the disappearance of numerous animated characters. The separated bros should reserve their distinctions and collaborate to reveal the bad guys behind the kidnappings, ideally restoring their relationship while doing so.
Chip 'n Dale: Rescue Rangers includes a star-studden cast, consisting of Andy Samberg, who provides his voice to Dale; and John Mulaney, who plays Chip. Along with them are Will Arnett, Eric Bana, Flula Borg, Dennis Haysbert, Keegan-Michael Secret, Hair MacNeille, Tim Robinson, Seth Rogen, J.K. Simmons and Chris Parnell.
Star Ben Affleck made his launching as the Caped Crusader in Batman v Superman in 2016. He repeated the function for Justice League and Suicide Team prior to leaving the DC Extended Universe completely. This followed an extended effort at establishing a solo movie fixated Snyder's variation of the Batman. Eventually, Affleck was not able to establish a script that pleased him.
He formerly spoke on the experience and the awareness he concerned in attempting to establish what would ultimately end up being Matt Reeves' The Batman. "Directing [The] Batman is a good example. I looked at it and thought, 'I'm not going to be happy doing this. The person who does this should love it.' You're supposed to always want these things, and I probably would have loved doing it at 32 or something," Affleck described.
Directed by Akiva Schaffer and composed by Dan Gregor and Doug Mand, Chip n' Dale: Rescue Rangers is now readily available for streaming on Disney+.
Source: Twitter